Audio Distribution
Video Distribution
CCTV
Smart Lighting
Heating Control
Outdoor Speakers/Lighting
Intercom
Automatic Gates
Wi-Fi and Network Upgrade
Home Cinema upgrade – Dolby Atmos & 4K Projector
Ca-10 Master Controller
Ea-5 Audio Controller
Multiroom Video
Multiroom Audio
Pakedge PDU
Ruckus WiFi
Araknis Networking
DS2 Video Intercom
Chime Video Doorbell
Control4 Touch screens
Heatmiser Integrated Heating Controls
Control4 Neeo Remotes
Clipsal Lighting re program
MKI service & Maintenance plan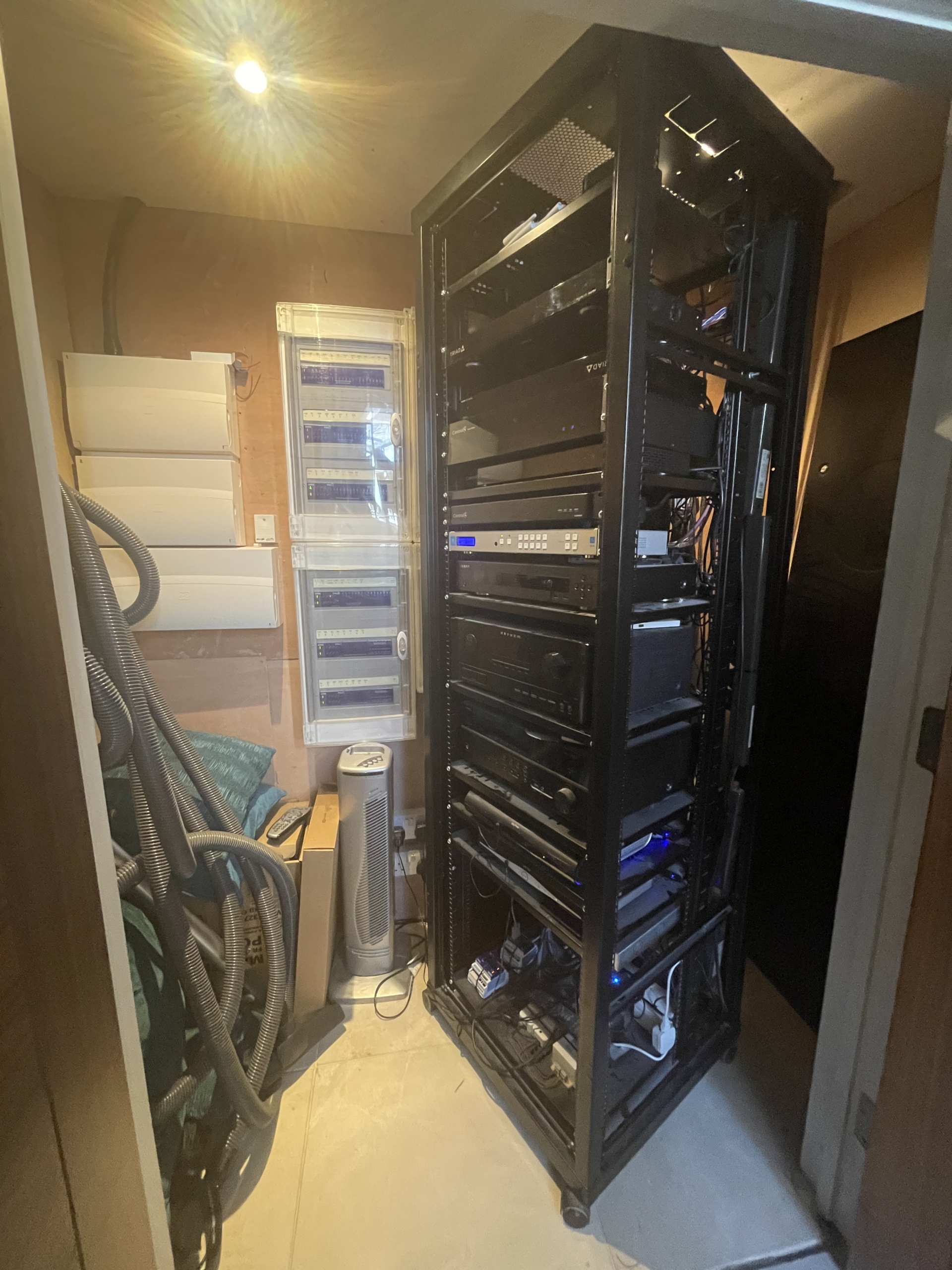 We were approached by this customer via social media, the customer complained that nothing ever worked correctly when they wanted to use the system was always hit and miss. They had several "Home automation" companies in to fix things and sort things out here and there but nothing ever lasted.
We worked very closely with the client to determine what their needs are and what they would like to achieve out of the system, they simply stated they would like it simple to use and for it just to work without having hesitation of it may or may not work.
The customer and their family loved to listen to music so we suggested upgrading the audio system to be able to stream from a phone or natively via control4 to any room in the home and to be able to enable a "party mode" for when they are entertaining. In total, there are 16 rooms of audio in the home, including an outdoor pool audio zone.
He then wanted the ability to be able to watch any Sky box, Apple TV, Roku, or even CCTV from any given room at any given point, we suggested to centralise all the equipment and distributing this across the home, in total 8 Tvs in the home have access to all the sources at any given point, we also added in a priority system where Sky box 1 first gets selected, then 2, then 3 and for the 4th a message comes up saying all boxes are currently in use, you can either take over or choose something else. Customer and their family love this as they now never disturb anyone actually watching TV and running their show.
We also installed a new WiFi system to have seamless WiFi connectivity throughout the home and in the outdoor spaces too.
While doing our upgrade works and seeing the whole home video system for the first time, the customer asked us to have a look at his dedicated Home Cinema and what we think he could improve on, we suggested a new 4K projector and the addition of Dolby Atmos height channels give them a 3D sound experience, the Home cinema is also connected up to the whole home video system and has access to all sources. We then provided the customer with a Roku streaming box to be able to watch all streaming content in 4K with the best sound possible.
To ensure each room was at the optimal temperature we integrated the customer's existing heatmiser system and added scheduling. Each room is individually controlled to provide optimal climate management while maximising energy efficiency.
Ease of control was vital for the customer, so we suggested adding Touch screens in the most used areas of the home. These touch screens would serve as a central hub for controlling various home features and accessing information, simplifying the management of their smart home.
By speaking to our customers and sitting down with them to understand their needs exactly we were able to deliver them with the best smart home experience possible and to create a tailored plan to transform their home into a sophisticated smart living space. Through our expertise and innovative solutions, we were committed to exceeding our client's expectations, ensuring their vision of a smart home became a reality, and the system was reliable.
Outdoor Audio Upgrade


MK Iconic Solutions
Lighting system upgrade