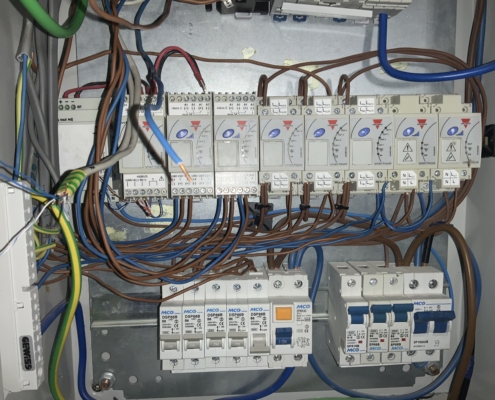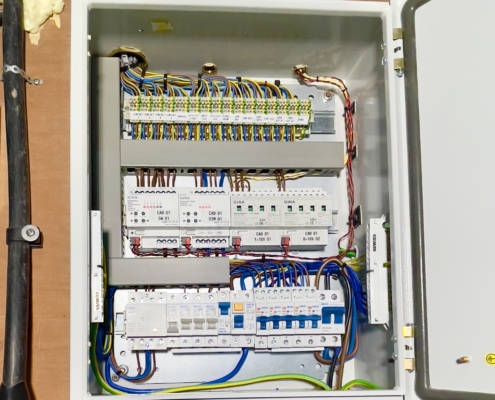 Meeting with our customer for the first time this is what they said to us. "When we push our switches they just fall in the wall" and right there we knew this HAD to be fixed.
The customer's current Lighting system was very outdated and the quality of the installation was questionable. The system also didn't work with LED fittings and still used halogen lamps. The keypad buttons were very confusing and no keypad was consistent in terms of the functions it did.
Due to the current cabling that is going to each keypad and lighting circuit, we opted to use KNX with Ekinex keypads and Gira modules, this is the best route with the current cabling structure.
The customer's main goal was for the system to be easy to use for anyone and simple. We set out to achieve exactly this, by adding consistency to each keypad for example the top button always turns on the lights and the bottom button turns off the lights in any given room.
The customer also asked if we could Integrate their LED lights into the system as currently they were using separate remote controls for this, We said Yes! As we're always up for a challenge.
Ekinek is the choice of keypads here offering large backlit buttons that are easy to press and don't fall into the wall when pressed…
The Lights on the buttons also give a quick indicator if the lights in a certain room are on or off.
We rebuilt the lighting panel from the ground up, identified all circuits, and labeled them to make it easy for service and maintenance.
The customer has since fallen in love with the system and no longer fears the keypads falling into the wall, there are plans to expand the system to the rest of the home!
Ekinek 5 button keypads – Gun mental flush finish
Gria X1
Gira S1
Gira Dimming
Gira Switching
Gira 0-10v
All new breakers
Din rail Connectors
Smart Home upgrade

MK iconic Solutions

Cheshire Home Cinema | Dolby Atmos