When we arrived at the clients home, we were astonished at the poor level of installation done. The cables were out of place and scrambled, there was no documentation. Overall, the system itself would not work properly.
Upon doing further investigation we saw that RJ45 ends were not terminated properly, hardware had not been placed properly in the rack, there was things on top of each other. In general the rack was poorly organised, to summarise it was a mess.
We proposed to the client to re do the entire system. We would clean up and identify all the cables that came into the rack and terminate them into a "Termination Box". This would then mean any cable we were not to use wouldn't be in the way our look out place.
A Brand new rack would be built with all new hardware and tested off site to ensure minimum disruption and an issue free transfer from old to new.
The client then also asked us if it was possible to upgrade their door entry system and tie this into control4 too, of course we said yes!
proposal of the new rack & termination box can seen here too.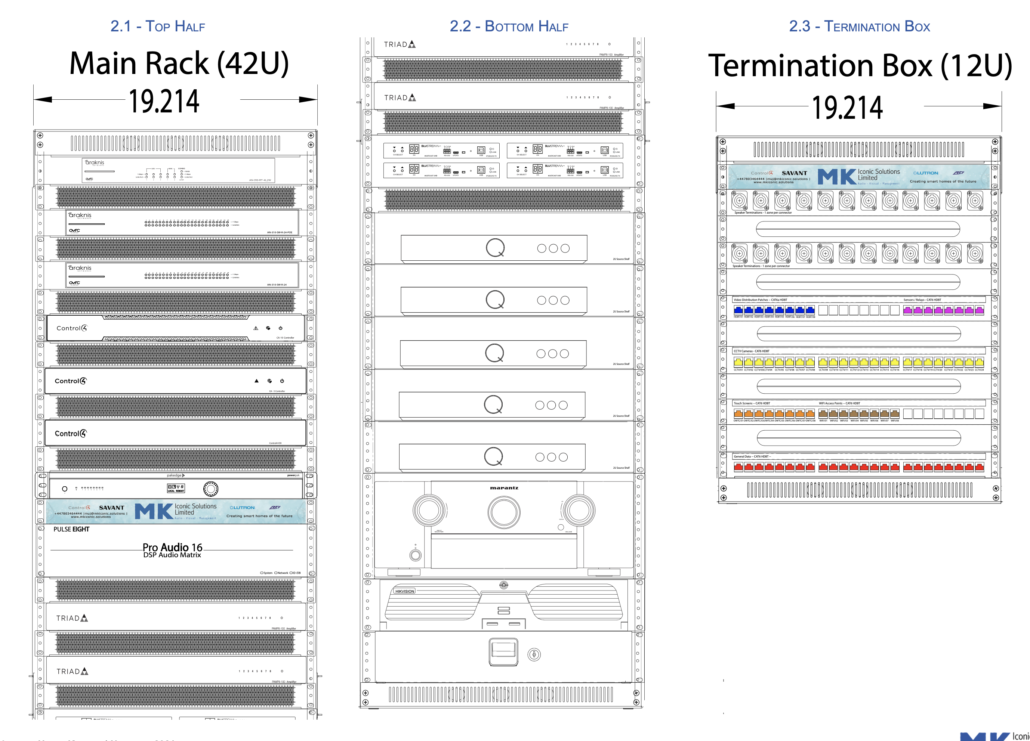 2
RJ45 Terminations, each row having its own purpose.
Video Distribution
CCTV
WiFi
General Data
3
All new hardware to be spaced out with enough air flow to equipment to stay cool and working at its best
The finished outcome included a brand new system which the client absolutely loved and was 100% satisfied.
Termination box was mounted on the wall with all the cables inside it dressed in for easy future access and maintenance.
The 42u Server rack was built offsite, with each cable labeled up and colour coded to identify its purpose.
We added a Control4 DS2 to the main Gate of the home with a keypad, allowing the client to set user codes for anyone they need to, when a code is entered they get a notification to their phones with an image so they always know who's accessing their home and when.
We also managed to link in the client's current iLight lighting system.
Hardware we added:
A fully managed Araknis network, with Ruckus WiFi Access points & OVRC for remote Management
IP PDU (Power distribution Unit) to reboot hardware if something was to fail with Power conditioning to ensure all power going to each component is clean.
Control4 CA10 as the master Home automation processor.
Ea5 to handle the audio side of things.
Triad Audio matrix so both Video and Audio comes out of the ceiling speakers in the home
Bowers & Wilkins Power Amps to power Ceiling Speakers.
And Of course our own Rack plate, were proud to put our name on this amazing install.
Home Cinema | Dolby Atmos


Outdoor Audio Upgrade